Well, we cannot ignore this one can we?
I was just about to post some thoughts on the match, but got sidetracked by Billy accusing Nigel Clough of assaulting him during Saturday's match:
"I told him I wouldn't have minded him doing it to my face but to do it when my back was turned was cowardly," an incensed Davies said. "That's why I never shook his hand at the end. I said to him on the touchline he was out of order because when I was in the middle of that scrum he came from behind and kneed me in the back of the leg. I felt the blow on the back of my right leg and it was deliberate.

"He tried to claim it was an accident but he knows, as well as I know, that it was no accident. He was trying to be clever and he did exactly what he was trying to do, but to do it behind my back was a bit cowardly and that was my disappointment."
The FA are to investigate, and Nigel has refused to comment. Amazing stuff…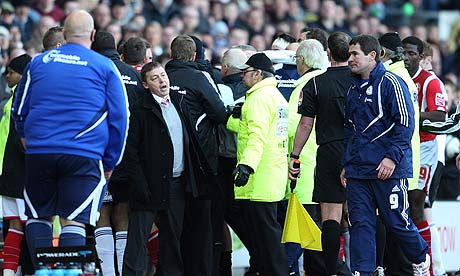 On the match itself, I was otherwise engaged so couldn't even listen in, but I am going to be honest and agree with Rahoul; I had a gut feeling that this might have been the one that got away. Put simply, I think it meant more to Derby this time, they needed a result to boost morale, and when you are having a disappointing time, you naturally focus upon games like this.
That's not to say that I don't mind losing to Derby, of course I do, and I am terribly disappointed that the Reds never really got going on the day. However, if this is the pinnacle of Derby's season (as Robbie Savage's comments and the DVD release suggest), and they only end up scraping safety (or worse), then more fool them. But I won't be crying over this one if we end up in the top two, or in the play-offs (even if we don't go up).
I certainly hope that the noises from the dressing room about learning from the experience hold true (we were always going to get complacent at some stage), and I found it interesting that Billy said (in the audio link) that he picked the wrong team (whether that is an admission of culpability or trying to protect the players is another matter).
Let's look at the bigger picture, we have been THE best team in the country recently, and it would take a dramatic loss of form for us not to be one of the top three or four teams in the division over the course of the season. I was Mr Cynical for a long time, but it is hard not to be so confident when you have watched this team over the last few months…
———————————
In other news, it comes as no surprise that we haven't signed Victor Moses, who has gone to Wigan; unfortunately there are rumours that Nicky Shorey will also be staying in the Premier League, with Fulham keen to take him on loan.